---
As wedding fashion continues to blossom, spring welcomes the annual Bridal Fashion week in New York. This year, designers' 2020 collections were debuted. Various designers showcased their most treasured ensembles and gowns. From ballgowns that resemble a princess dress to modern tighter-fitted pieces. Feathers, flowers, and fabulous sparkles; we break down the most exclusive event catered to brides-to-be. Bridal Fashion Week took place in New York City on April 11th-14th. Both emerging and established designers united for a whimsical array of diverse designs fit for a blushing bride. This year, we were graced with the 2020 collections consisting of bold statement gowns and minimal aesthetics. Also striding down the catwalk were overcoats, feminine suits, mauve tones, high-rise slits, adorned floor-length gowns, and modern, tightly fitted white classics.
Cinémoi had the privilege to get up-close and personal with the top wedding designers contributing their craft to this 298 billion dollar industry. Wedding fashion has become so monumental and has proven to be an extremely popular tradition. Today, Cinémoi exhibits some of the best ensembles from emerging designers, including Francesca Miranda, Eisen Stein (composed of Yaya Eisenberg & Heli Kalkstein), Monica Byrne, Shawne Jacobs of Anne Barge, Sherita M Cuffee of Visçera New York, Martha Suarez, and Claire Pettibone. Each gown artist produces an outstanding assortment of white elegance.
Here are Cinémoi's top looks from the coveted designers we had the pleasure of meeting:
Salvadorian designer, Francesca Miranda has been a household name since 1995. She has dressed celebrities such as Rebecca Mader, Sofia Milos, Andrea Minski, Elisabeth Röhm, Perrey Reeves, Shenae Grimes, Ashlan Gorse, and Adele. Her 2020 compilation boasted classic white pieces. Her collection is adorned in feathers and delicate beading. Bell sleeves and puffy shoulders made an appearance from the 80s with a new look that polished itself to dresses that will become timeless. Francesca explained her connection to creativity stating, "If I am not creating anything, I am not Francesca Miranda."
Eisenstein consists of two creative directors named Yaya Eisenberg & Heli Kalkstein. The designers briefly explained their approach to a different perspective on white wedding frocks. "We wanted to bring something else to the industry. We wanted to be more fashion forward. Eisenstein succeeded in crafting high-fashion gowns invented for the runway and daring brides. White corsets, detailed embroidery, applique flowers that provide texture, bold ruffles, and high necklines. These special pieces offer a bespoke twist on modern-day cuts. The body is a canvas, and Eisenstein delivers a visual representation of wedding joy.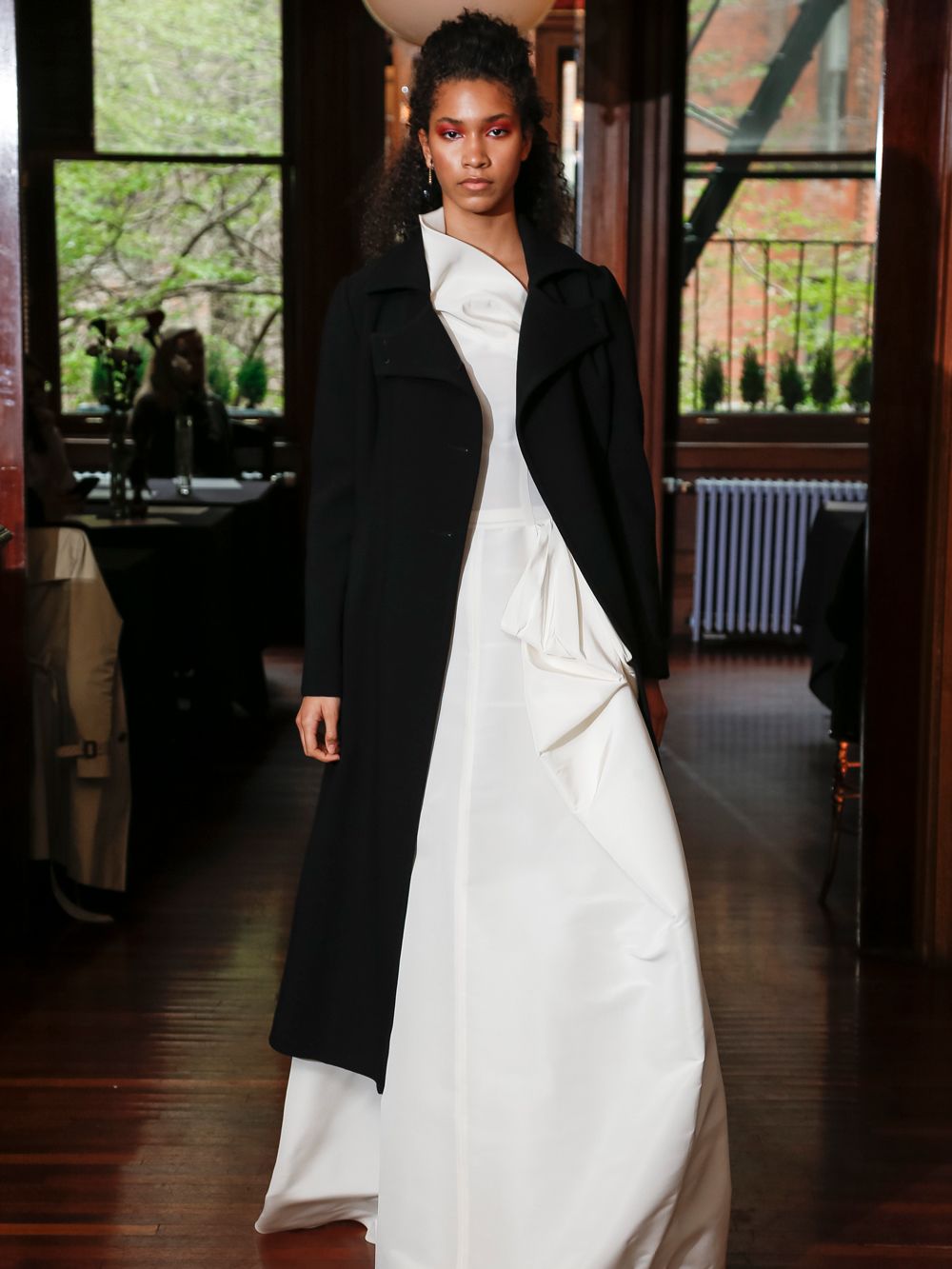 Monica Byrne is no stranger to the bridal design realm. She has been succeeding in this industry for 18 years and counting at global brands that include Carolina Herrera, Vera Wang, Jill Sander, and Donna Karan. She currently runs an atelier for the evening and bridal wear. Monica Byrne Maison revealed beautifully tailored custom dresses. It combined evening wear and bridal wear on the runway. Shift cuts and colorful accents completed the evening wear, while the bridal dresses stayed symmetric and simple with hints of texture. Add a chic overcoat and her pieces can be worn during all months of the year.
For a more classic look, we take a look at Shawn Jacobs for Anne Barge. Starting at an entry-level position in 2002, Shawn worked her way through Anne Barge for 10 years. After becoming president she decided to honor the original vision of Anne Barge. We saw the return of long trains and stunning gowns that were perfected to be traditional pieces with a contemporary influence. Floor length veils and sheer capes draped from the back that stole the show to give a subtle but impactful addition. To make some dresses edgier, off-the-shoulder sweetheart cuts were included.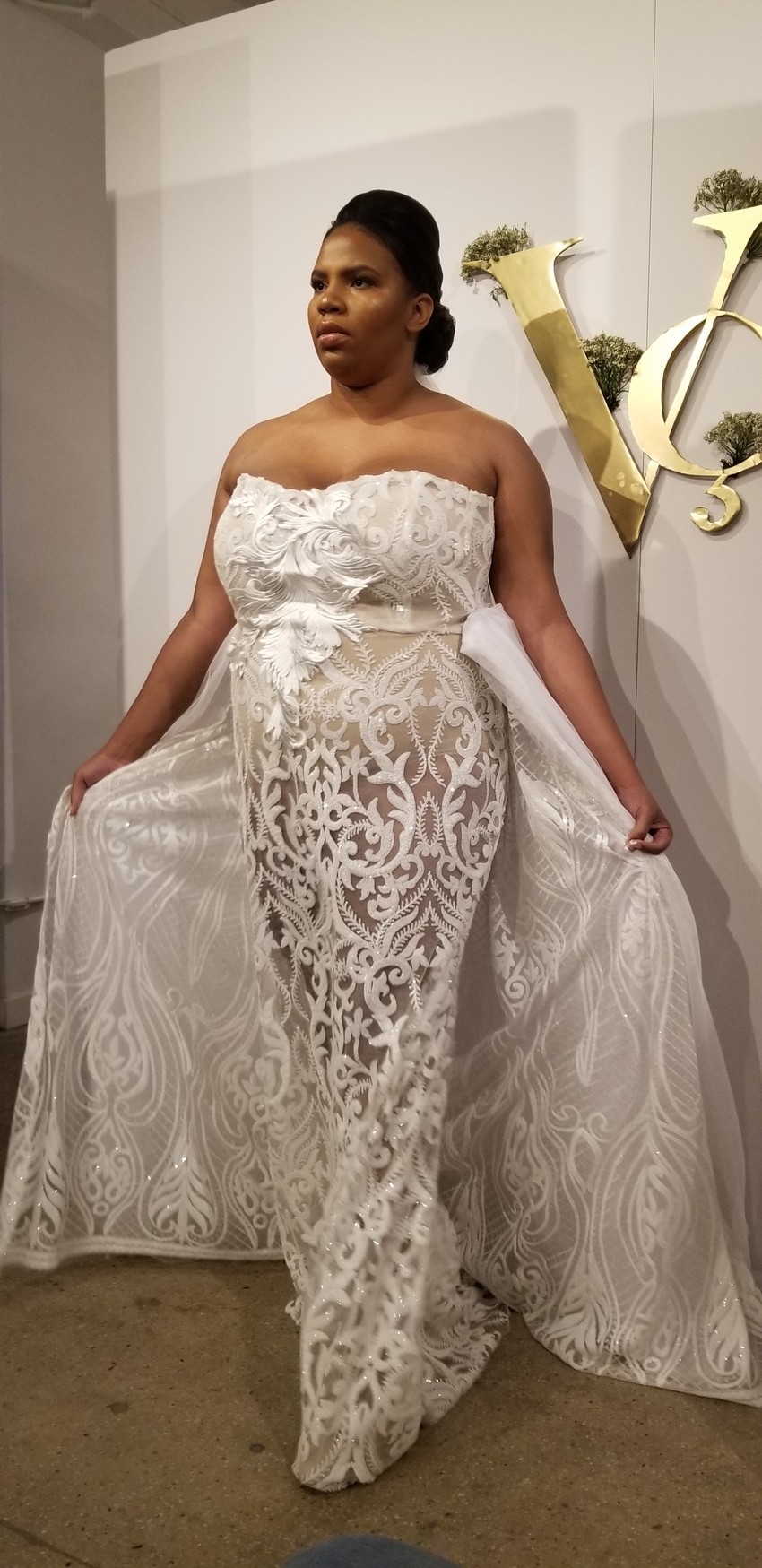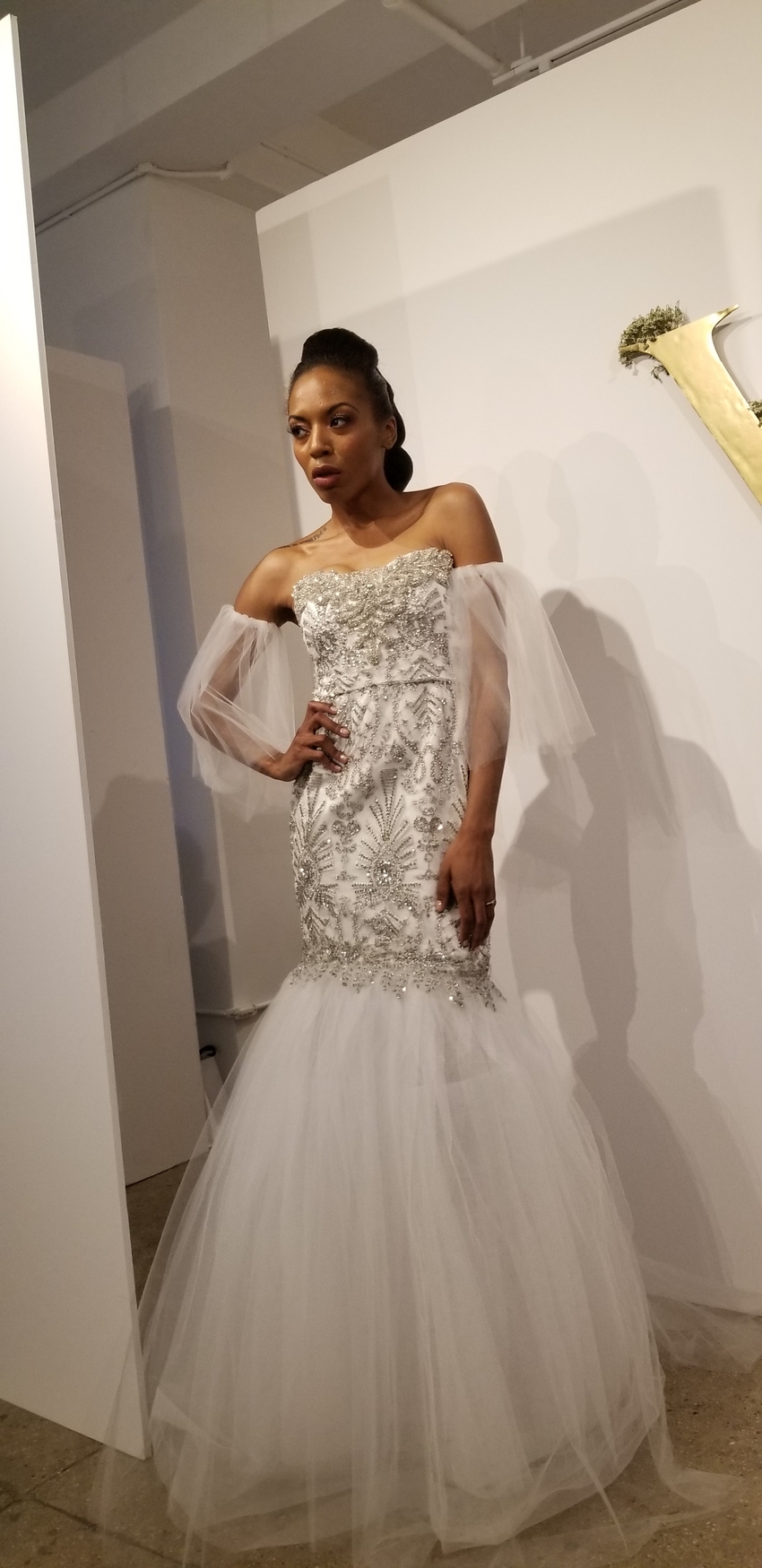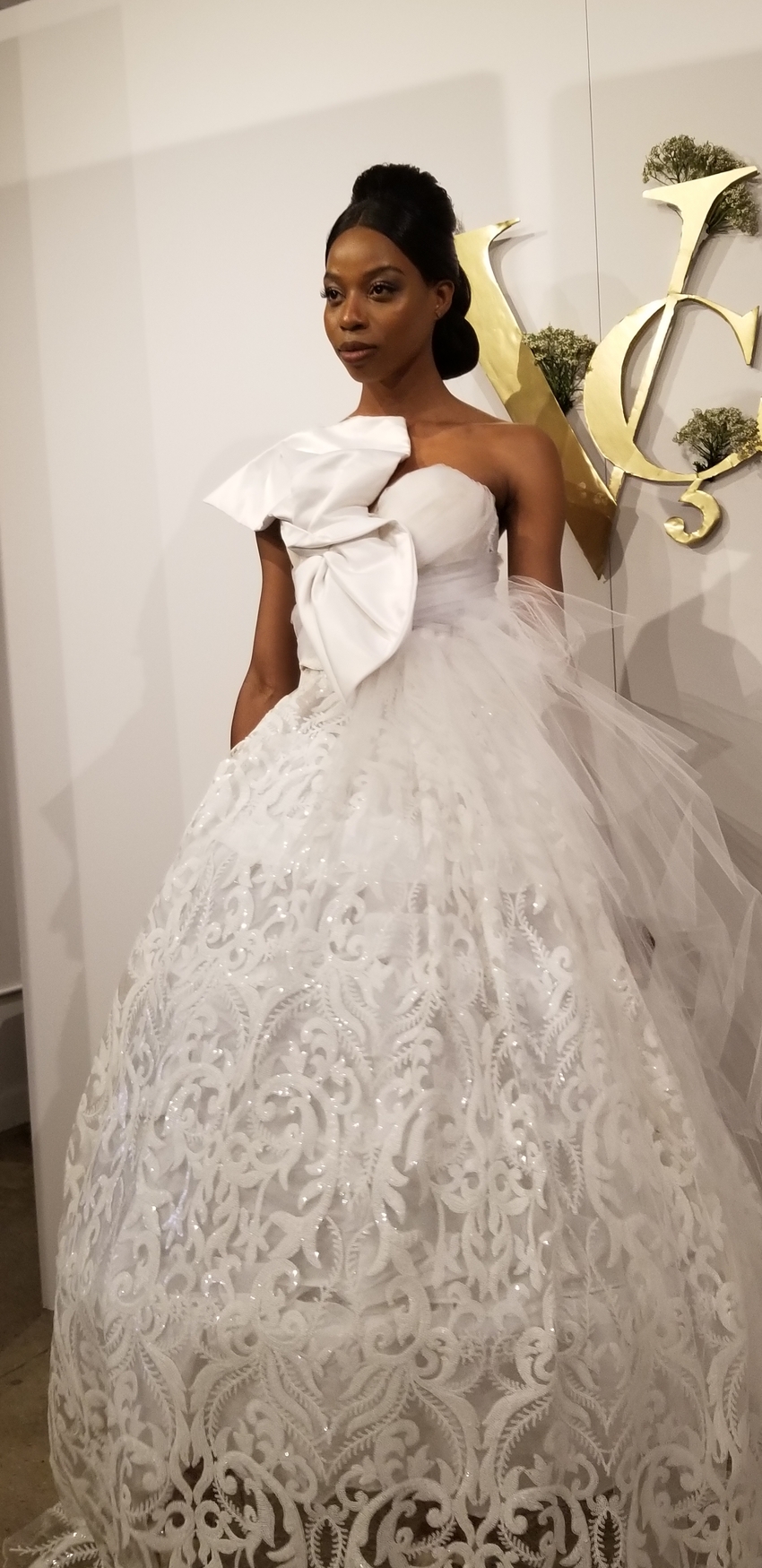 Targeting the curvaceous, Sherita M. Cuffee broke the isolation of brides with limited options because of sizing. VISÇERA NY is a womenswear brand focused on demi-couture evening wear and bridal options. The sizes come in 0-30 and offer custom-made gowns. Her vision incorporated stunning chiffon, sparkles galore, and included bodysuits to add a sensual attraction to the ceremony. The most notable attribute in her designs is the asymmetry blended into the necklines.
Martha Suarez has been a couture designer for 12 years. "I like dresses that tell a story and can be worn again. After all, you are buying a couture dress." For this specific reason, Martha dabbles in both casual and formal wear to give gowns purpose. She makes trends that lead the way in modern bridal wear and lives by her brand motto to design "not another white dress." The tradition is left behind to make way for fresh takes on the typical wedding dress which is exemplified in her 2020 collection. Featuring feminine bows, sexy cut-outs, shorter dresses, and backless beauties.
Los Angeles-based designer Claire Pettibone triumphs in visual aesthetic as her pieces become the epitome of romanticism. Pastel dresses embellished in flowers and vines stood out the most for Cinémoi. Her accessories impressed us with shawls and sheer jackets that carefully shape the silhouette of elegance. Classic 90s trends appeared in thin spaghetti straps and minimal cuts representing the path of fashion design and demonstrating to be cyclical. "Timeless," her newest collection, debuted as nothing short of a fairytale.
The innovators of new trends transform a single white-dress idea into endless possibilities. Without the increasing number of hopeful designers, this industry would not be what it is today. At Cinémoi, we recognize and honor the designers who are determined to change the bridal industry. Creativity will never cease to exist with the white dress that started it all.
---