In honor of Women's History Month and as International Women's Day approaches, I spoke with Congresswoman Karen Bass about her accomplishments as a woman in leadership.
Congresswoman Bass is a U.S. representative of California's 37th Congressional District. Congressmember Bass serves on the House Committee on Foreign Affairs where she is the Chair of the Subcommittee on Africa, Global Health, and Global Human Rights. She also serves on the House Judiciary Subcommittee on Crime and Terrorism, where she is active in working to craft sound criminal justice reform policies.
WATCH FULL INTERVIEW BELOW:

1. In 2008 you made history by becoming the first-ever African American woman in U.S. history to serve as Speaker of any state legislature. How significant was this for you? 
It was a very exciting and scary time because I became speaker right when the great recession was just beginning. I never had any idea that the economy of California was going to be in such peril, just 2 to 3 months after I became speaker. But it was an incredible honor and I felt the weight of history on my shoulders and I learned a tremendous amount in the two years I served as Speaker of the Assembly. 
2. What inspired you to become a community organizer, which lead you to where you are today?​
Well I grew up in a time period in the 60s and 70s when activism was on every issue that you could think of, both domestic and internationally. What I say is that it's really how I grew up. It's the time period, the moment in history in which I grew up. Which is a very similar moment to the younger generation right now. I think of the George Floyd murder that happened last year, and all of the activisim around Black Lives Matter, all the activism around immigration reform. If you want to understand who I was many years ago, I was just like the young people that are out and active on those issues today.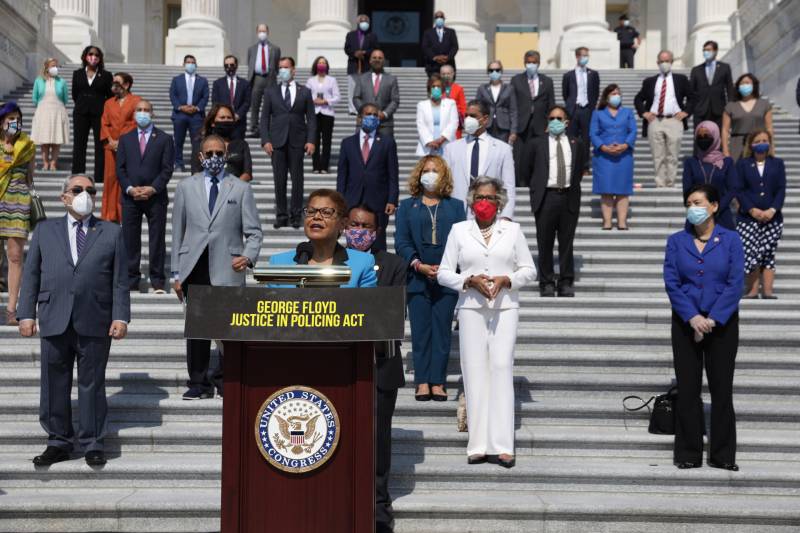 3. You're a vocal ally of immigration reform and just announced you supported the Bicameral U.S. Citizenship Act of 2021. Can you share why you hope your colleagues will vote to pass this piece of legislation? 
Well, I am very proud to be 1 of 7 women, we call ourselves the "closers." And what that means is that it's our job to close the bill, get all the votes, and pass it out of the house of representatives. Immigration reform is an absolute critical issue as I was born and raised in Los Angeles. So I've been involved in supporting immigrant rights for many decades, and I'm very proud to sit here as a member of congress and do that exact same thing.
4. Why was the Equality Act 2020 important for you?
The Equality Act 2020 is about LGBTQ equal rights in our country, and including the LGBTQ population in the Civil Rights Act. To me, if you are fundamentally for social and economic justice and inclusion then that means everyone. And so I am very proud to be a co-sponsor of that bill and to have voted for that bill last year, and this year. But this year, because we won the White House, and won the Senate, I actually think this bill will make it to the President's desk and will be signed into law.
5. During 2019 and 2020 you served as the chair of the Congressional Black Caucus. You worked with the Congressional Hispanic, Asian Pacific Islander, and Native American Caucuses to demand a targeted response to the COVID-19 pandemic. How impactful do you think your Virtual Town Halls, Zoom webinars, and Instagram Live sessions were?
I will tell you that the issues that we worked on and the way we worked on those issues, now, it's understood and that's what should happen. And so the legislation that is being put forward now on Covid includes the policy recommendations that we had from last year.
6. ​Child Welfare Reform has always been important for you as it has for Cinémoi's President, Daphna Ziman. Can you tell us why you founded the Congressional Caucus on Foster Youth (CCFY)?
Yes, I worked on the issue of reforming and transforming the Nation's Child Welfare System for many many years. I think in the United States, the richest country in the history of the world, we should be able to take care of all the children in the country and the young people involved in the Child Welfare System. It's just a half a million children a year and we have over 300 million people in our country. So why can't we take care of the half million young people? That's why I am involved in the issue and I will continue to be involved in the issue until we transform the system.
7. As a woman in power with your recognition, can you share with our viewers a piece of advice you once received that you would like to relay?
For women that are involved, and I don't care what level of activity you're involved in. Sometimes we feel like when we walk into a room, I don't care what room that is, I don't care if it's politics, education, or if it's just your job, sometimes we feel like we need to ask for permission to be there. And what I say to women is you hold your head up, your shoulders back, you walk into the room and you act like you own it. You feel confident that you are there because you deserve to be there. You should never question whether or not you deserve to be in a room. If you are in that room, you're there because you earned it.
---