While we will miss the unparalleled glamour of the Met Gala this year, Cinémoi will be showing our special 'The Met 20 Years: The Art of Fashion' on our YouTube channel.  You can also watch it on the brand new Cinémoi App on iOS during your FREE 30 Day Trial!
Here is a roundup of some of the most iconic Met Gala looks throughout history. Which look is your favorite?
Amal and George Clooney, Maison Margiela, 2015) Amal stole the spotlight from her Hollywood star husband in her dazzling Maison Margiela gown created by John Galliano. The red sequined dress topped with an amazing blowout marks Amal as a fashion icon to watch for during the 2019 Met Gala.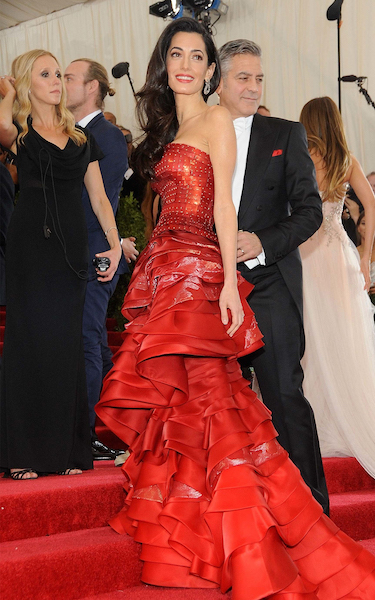 Anna Wintour, Chanel, 2018
After 23 years of gracing the Met Gala red carpet, Anna Wintour is still turning heads in her heavenly white Chanel gown. She came in dressed as "Cardinal Chanel" topped with a statement-making diamond rosary.
Ariana Grande, Vera Wang, and Butani jewelry, 2018
The young starlet Ariana Grande kept with the Heavenly Bodies Theme by sporting a Sistine Chapel inspired gown by Vera Wang. Upon a closer look, a cheeky nod to Michelangelo's 'The Last Judgement' can be seen adorning the bodice of the gown.
Beyonce, Givenchy, 2014
As always all eyes are on Beyonce at the Met Gala and Beyonce has not disappointed. In the 2014 edition, she stunned the red carpet in her film noir, femme fatale style Givenchy gown. She walked down the red carpet in a sheer black dress with the classic femme fatale head piece, that was both tantalizing and classy.
Blake Lively, Gucci, 2014
Channeling old Hollywood glamour in Gucci, Blake Lively's champagne sequined dress turned heads. Her glamorous side-swept waves and dramatic ruby ring topped off this stunning look. With husband Ryan Reynolds on her, she beamed elegance in her custom made Gucci gown.
Cardi B, Moschino, 2018
A Met Gala novice, Cardi B, stole the red carpet in just bejeweled gown by Moschino. Her headpiece and choker added drama to this already dramatic look which took four weeks to make. Cardi B beamed like a goddess with her skin-tight gown hugging her baby bump.
Donald Glover, Gucci, 2018
Men are often overshadowed by their female counterparts on the red carpet, however, this is not the case with Donald Glover's purple 70's style Gucci tuxedo. Not only did he break away from the traditional black suit but he merged traditional art and fashion. The back of his suit jacket featured the 'Eye of Providence' as seen on American currency.
Jennifer Lopez, Zuhair Murad, 2010
Zuhair Murad's silver sequined dress was striking on the curvaceous Jennifer Lopez for the 2010 edition of the Met Gala.
Katy Perry, Prada, 2016
Kate Perry went full gothic in her devastating black and gold Prada gown. Her drastic dyed black hair, with blunt bangs and barely-there eyebrows, added to the drama of her look. However, upon closer inspection of her gothic look, some whimsy can be found in the form of a Tamagotchi given to her then hun, Orlando Bloom.
Lady Gaga, Balenciaga, 2015
This kimono-inspired gown made by Balenciaga was striking on the always head-turning Lady Gaga. She embodied the 2015 theme of the year, 'China: Through the Looking Glass' with her bedazzled, feather-clad kimono that incorporated traditional Chinese fashion with the high couture of Balanciaga.
Lana Del Rey and Jared Leto, Gucci, 2018
Lana Del Rey and Jared Leto were a couple made in heaven. Their matching Gucci looks were among the most dramatic and eye-catching of the evening. However, Lana's stood out, the Gucci gown was embellished in crystals, gold accents stars but the show stopper was the gold heart chest plate surrounded by daggers.
Migos, Versace, 2018
Channeling one of their early hits, 'Versace,' the trio Migos sported colorful embellished Versace blazers and gold rimmed-sunglasses. The decadent blazers were littered with religious iconography ranging from religious paintings to depictions of religious emblems.
Rihanna, Guo Pei, 2015
Four years later and we are still talking about the breath-taking couture gown by (then) little known Chinese designer, Guo Pei. The gown weighs in at 55 pounds and took almost two years to make and it shows. Only Rihanna could rock a vibrant yellow cape gown with gold embellishments and not be swallowed by its enormity.
Sarah Jessica Parker, Oscar de la Renta, 2014
SJP is a Met Gala veteran and does not disappoint when she glides down the red carpet. Her sleek and beautiful black and white Oscar de la Renta was reminiscent of 1960's Audrey Hepburn. Her classy dress was finished off with long silky, diamond-embellished matching gloves and a bun.
Written by Alejandra Olmedo
---